This is just about our favorite meal. It's become almost a tradition, every other Friday night. I've been making enchiladas since I was a teenager, gradually adapting the recipe to suit my tastes and ensure consistent results. The Spanish rice that goes so well with this was a recipe I learned from my mother, who got it from a friend at work; I've made some minor adaptations there as well.
I made a number of attempts to make this dish vegan, but it just isn't right without real cheese. The recipe here serves two.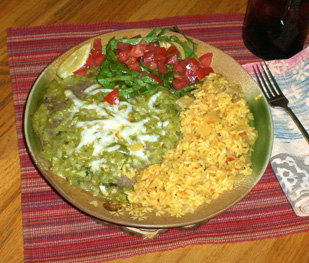 The Sauce
1/3 onion, chopped
3 cloves garlic, chopped
1 tablespoon flour
vegetable broth, 1/2 cup or so
1 13-oz. container Bueno frozen green chile (thawed if possible)
2 small tomatillos, finely chopped
1 Tbsp sour cream (we use Tofutti vegan sour cream)
1/2 tsp oregano
2-3 tsp chopped fresh cilantro
olive oil
Preheat oven to 325. In a medium pot, sauté the onion in olive oil over medium heat. When it gets limp and translucent, add the garlic, and then the flour. The flour will make a kind of pasty coating on the onions and garlic. Continue stirring a few minutes until the mixture is golden in color. Add vegetable broth a little at a time, stirring to make a small quantity of thick, gravy-like sauce. Add the green chiles and reduce heat to a simmer. Add the tomatillos and oregano, and simmer for about 30 minutes. While the sauce is simmering, assemble the enchilada ingredients (below), and then start the Spanish rice. When the rice is cooking, add the sour cream and cilantro and stir until well blended. You may blend the sauce (partially) with an immersion blender if desired.
Spanish Rice
1/2 cup long grain white rice
1/3 onion, chopped
2 cloves garlic, finely chopped
1 cup vegetable broth
up to 1/4 cup of your favorite salsa
olive oil or cooking spray
In a small pot, sauté the onions and rice in the oil or cooking spray over medium high heat. When the onion begins to become translucent, add the garlic. Keep sauté ing until the onion is translucent and the rice turn opaque white (some of them may brown a bit - that's good!). Add the broth and the salsa, and bring to a boil. Reduce heat to low and cover. Now assemble the enchiladas
Assembling the Enchilada Ingredients
4 blue corn tortillas
1/3 onion, chopped
1/2 cup grated asadero or jack cheese, or more if desired
shredded lettuce and chopped tomato, for garnish
Use two large oven-proof plates. Put a small dollop of enchilada sauce on each, then cover with a tortilla and press to spread the sauce out. For each plate, sprinkle with half the onions and about 1/3 of the cheese. Add more enchilada sauce (generously), and top with a second tortilla. Cover with the remaining sauce (it should completely cover the tortillas and spill over onto the plate) and sprinkle with the remaining cheese. Put in oven to bake.
When the Spanish rice is done, the enchiladas will have been in the oven 10 or 15 minutes and will be ready. (They are baked only to warm them and to melt the cheese - don't overbake or the tortillas will become very mushy.) Spoon the rice onto the plates and garnish with shredded lettuce and chopped tomatoes. (I sometimes drizzle a little lemon or lime juice over the lettuce and tomato.
Serve with sangria or Tom's perfect margaritas.
Ingredient Corner
Bueno frozen green chile is really the best way to go for enchilada sauce. You can use fresh chiles and roast them yourself if you are a purist, but it is hard to match flavor and texture of the Bueno chiles.
Tomatillos are small green fruits in husks, related to tomatoes but with a tangy, citrusy flavor.
Fresh cilantro usually comes in bunches (if you don't have it in your garden), which is way more than you need for this sauce. It keeps very well in the fridge, standing in a glass of water with a grocery bag over it. Change the water regularly.